Coronelpavilion
2020 - ongoing

Beth Haim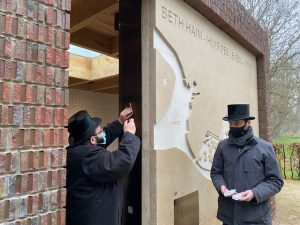 On Monday, November 30th, 2020, the Coronel Pavilion of the oldest Portuguese-Israeli cemetery in the world is still in use, Beth Haim located in Ouderkerk aan de Amstel, was inaugurated by Rabbi J.B. Serfaty and Gideon Coronel, son of Jacques Coronel z'l and parnas of the Portuguese-Israeli Community.

A large built-in screen showed the audiovisual presentation and is the main part of this introduction.
Watching the impressive film recordings and animations directed by Martin Grootenboer and listening to the sonorous voice of Jeroen Krabbé and the atmospheric audio composition of Leo Anemaet, you enter a special, almost magical world. The film lasts approximately twelve minutes and starts the moment the visitor enters the pavilion. The film can be heard in Dutch and has English subtitles. The camera work (during four seasons) is by Ben Geraerts and Ray van de Bas. The assembly is realized by Martin Grootenboer.